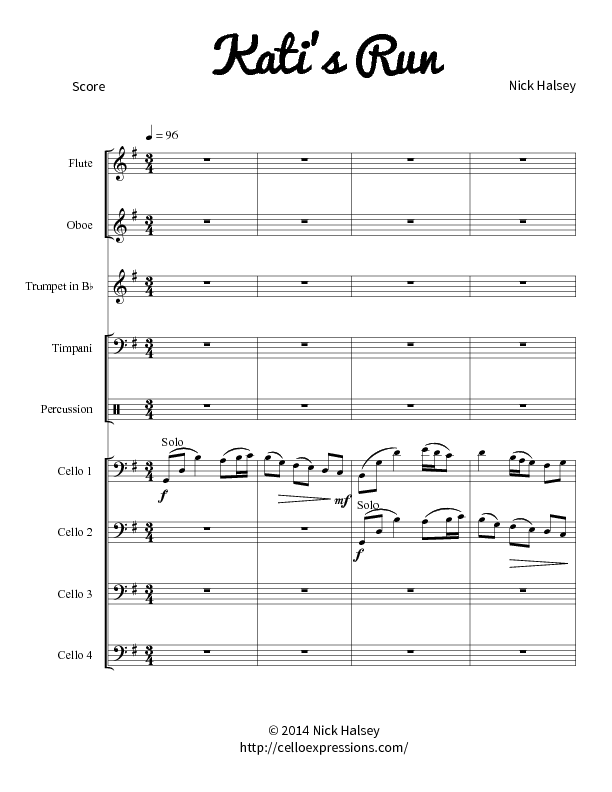 Composed for Kati Leasure, for A Concert for Kati with the Boulder Cello Project.
The title, Kati's Run is a reference to Kati's enjoyment of skiing, and her drive to be active and enjoy life despite her challenging situation. I had the pleasure of travelling to Boulder, CO to perform with the cello project in this concert, and I got to meet Kati there. Her positive attitude and supportive family, and the efforts of everyone involved in the concert made this an especially rewarding experience.
Kati's Run features several quotes from other pieces we played at the concert as well as stereotypical classical cello pieces (Bach's cello suites), and inspiration from some of the popular music we played. It should be performed with at least two cellists per part, and also calls for flute, oboe, trumpet, timpani, and percussion. A strong conductor is a must with a group of this size, especially given the unconventional instrumentation.
I served as the Artistic Director for the concert, doing everything from selecting the program based on Kati's favorite songs, to creating the graphics and designing the website and programs, arranging and composing all of the music, selecting collaborating musicians to accompany the cellists, coordinating the lighting schemes with the lighting director, and even creating seating charts for every piece. A recommended layout for the Kati's Run ensemble is below.